Chocolate Fountain
If you would like a chocolate fountain anywhere in the South West, our delicious Belgian chocolate covering a mouthwatering selection of dips will give your guests an experience to remember.
Our trained operators will ensure that everyone has the full chocolate WOW factor! From the choice of fruit and sweet selection to the pleasure of dipping into the cascading milk, dark or white chocolate.
For that extra indulgence, white chocolate can be coloured pink, red, blue, green, orange, purple or black. Milk chocolate can be flavoured strawberry, orange, caramel or coffee.
Our full service includes delivery, set-up, all dips, skewers and napkins, a trained staff member for the duration of the hiring, as well as take-down and removal.
Prices are based on the number of guests and start from £250.
Single or multiple fountain bookings are available.
Please call or email for a quote and availability.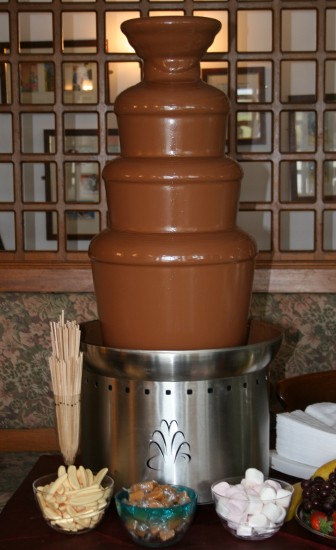 Booking more than 2 of our services? Ask us for a deal to suit your requirements.